Types of Writing Services Offered
Evoessay.com offers many services for students, like academic writing, rewriting, math/physics/economic/statistic problems resolution, proofreading, editing, copywriting, admission services, dissertation services etc. Such a big quantity of services offered requires a big team of professionals in each and every field of studies. We decided to check, whether they satisfy this requirement of not, and made our personal order. Most students usually order essays or term papers. We chose to dig a little deeper and to make an unusual order – a math problem resolution, namely, resolution of four math modeling problems. It is a complicated issue, therefore it requires a professional approach to resolve them correctly and present the results. Besides, to see and understand all of the possibilities of a company, we ordered an essay on linguistics. By making such orders we can see the level of company's specialists in humanitarian sphere and hard studies.
To tell you the truth, we expected, that linguistics essay will be made perfectly, because it is an easy assignment, and math modeling problems will be resolved with few mistakes – just because it is an exact science and few aberrations are possible there. Imagine our surprise when we received two of our orders with an awful quality each…
Quality of Papers
That is absolutely unacceptable! Both of works we received were made in an inappropriate way. Let's look more detailed on these two issues.
The first order was math modeling problem resolution. We had four problems to deal with. We don't know, what the writer was thinking, but maybe he was hoping, that we'll never open the paper: only three of four issues were resolved. Two of three performed tasks were made correctly, the third one was just a description of a problem, not a resolution. It is not a level of a 4th year of college.
And now about the linguistics essay. Our requirements were to write a theoretical description of Romano-Germanic group of languages on 8 pages, within a deadline of 5 days, APA formatting style and on Junior level (College, 3rd year). We received our work on time, but author seemed to be a High School student, or even lower: we haven't seen any understanding of the theory of linguistics and what is Romano-Germanic group of languages. The text was written with unprofessional terms and without scientific analysis – just a bunch of information copied from different internet sources. Is that a professional approach for writing an essay? Absolutely not.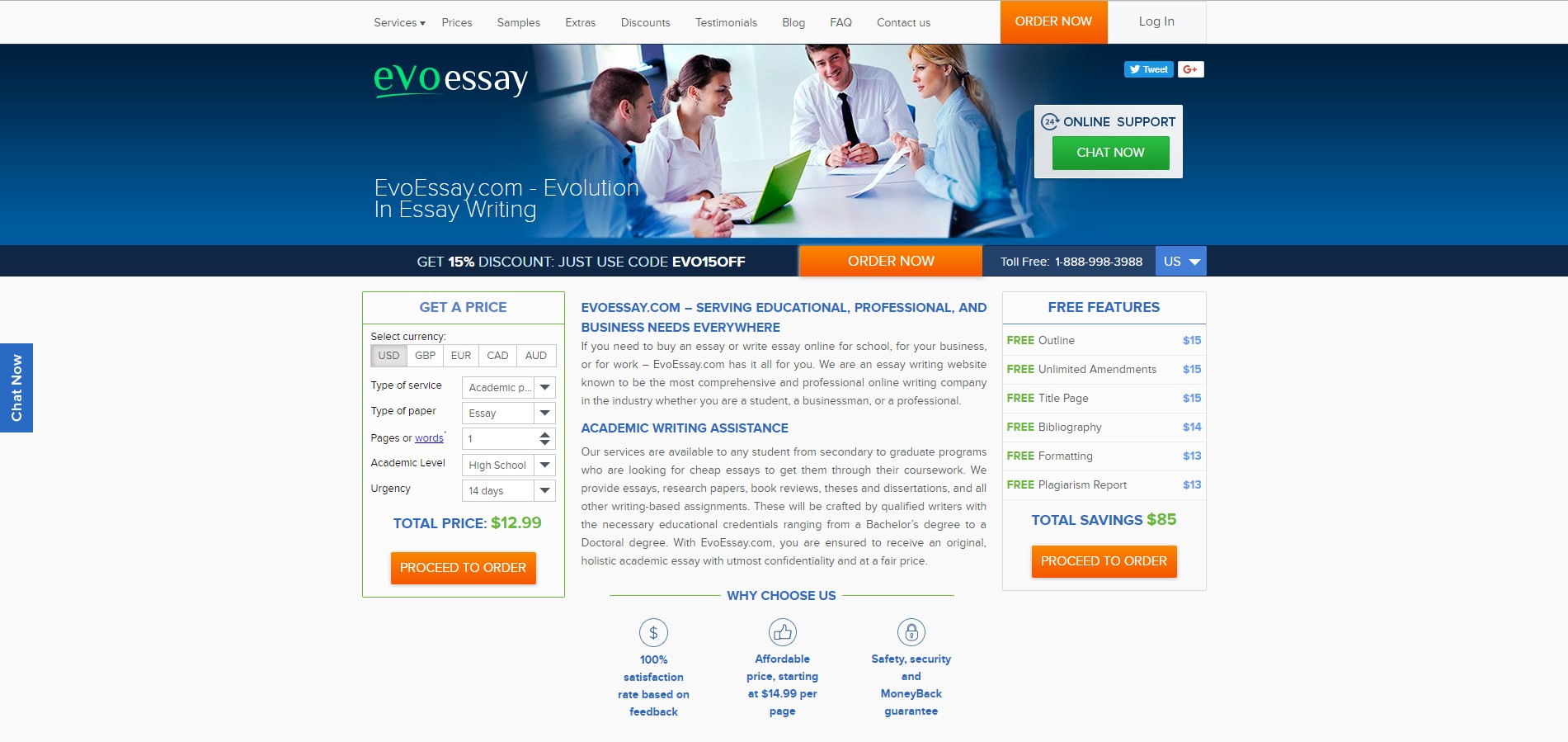 Guarantees & Discounts
Evoessays.com offers you a wide range of discounts: -5% from your first order, -10% from your 10th order and -15% from your 25th order. Also, you can receive different seasonal special offers and short-term offers.
On their main page you can see a list of guarantees they provide you with: total confidentiality, 100% satisfaction from a received assignment, on-time delivery, direct contact with your writer, originality of a content etc. We experienced non-compliance of at least two guarantees. Also, they don't provide any document, that ensure you with one of that guarantees, so it's up to you to decide, whether to believe this company or not.
What about prices?
Prices at evoessay.com are average and are starting from 14$/page. The final cost of your work may change because of your requirements. For example, if you need your work to be done urgently, you will pay more. Same situation with the level of your paper: PhD paper will be more expensive, than college paper. That difference is understandable, because each academic level requires different amount of knowledge.
If to speak practically: the price for our math modeling problem resolution paper on the level of 4th year college student with a 5 days urgency was 124$ (31$ for each problem), and the price for our linguistics essay for a 3rd year college student within 5 days deadline was 152$ (19$/page). These prices are reasonable, but in our opinion, these are not suitable for such an unsatisfactory results. We agree, that these prices are average, even slightly lower, but ask yourself: do you need the work, which has to be corrected by you before you give it to the professor?
Ordering process
Order window is the first thing you see when you enter the website. You just fill in the type of service, type of paper, quantity of pages or words, academic level and urgency and that's it. You will see the price for your order (without discount) and if you like it, you press "process the order" button right under the price. After that you write more detailed information, like formatting, topic, download additional materials (if necessary). When you mentioned every detail, you proceed to the payment page, pay for your order and wait for someone from their customer support to contact with you.
After the detailed estimation of every service, provided by ovoessay.com we can say with confidence, that we don't recommend this website for your essay order. The prices are good here, but the quality is unsatisfactory. But still, it is your choice – to use this company or not.
✖
We have noticed an increasing number of negative reviews about the services of this website. Therefore, we do not recommend you visit this site for the safety of your personal details. As an alternative, we suggest you go to
The-Essays.com